Adjustable Hospital Beds are increasingly used in hospitals and health clinics. Adjustable hospital beds offer much more than the comfort when recovering from illness and injury, The beds make it easier for patients to sit up or partially recline, making caregivers' services easier and giving patients more freedom to move about.
An Introduction to Adjustable Hospital Bed
Most hospital beds are adjustable, but there are different types of beds available. The type of bed that is used may depend on several factors, including the nature of the patient's illness or injury, their mobility, and their weight. Common kinds of hospital beds include:
Electric hospital bed
A full electric hospital bed has specialized features both for the comfort and well-being of the patient and for the convenience of health caregivers. The electric medical bed features motor controls that raise the head, foot, and height of the bed frame with a push of a button.
Manual hospital bed
Manual Hospital Beds use hand cranks to adjust the head, foot, and height of the bed frame. There is a variety of bed positions to meet patient needs. These beds are a cost-effective long-term care option.
Wide Range of Configurations
Adjusting the bed to different configurations is extremely beneficial for many users. Medik beds with a wide range of configurations to support the five different functions, including head and foot adjustability, hi-low, reverse Trendelenburg, Trendelenburg, and cardiac chair positions.
The Benefits Of Adjustable Medical Bed
Adjustable hospital beds are becoming more common, they offer a host of benefits for both patients and caregivers. Medik's adjustable Hospital Beds provide comfort, mobility, independence, and security to those who use them. The many benefits of an adjustable medical bed are detailed below.
* Improved Comfort
Patient comfort is very important, particularly for those who spend substantial time in bed. An adjustable bed offers greater comfort through the many different configurations it offers. Adjust the head and feet section to find the optimum bed position, patient can relax and focus on getting better.
* Greater Independence
One of the main benefits of an adjustable hospital bed is the increased independence of the users. If the people had surgical treatment, have been injured in an accident, or have underlying health issues, mobility can be a challenge. But thanks to adjustability settings, getting into and out of bed becomes easier. This reduces the risk of injury for those using the bed and offers them greater independence in their day-to-day routine.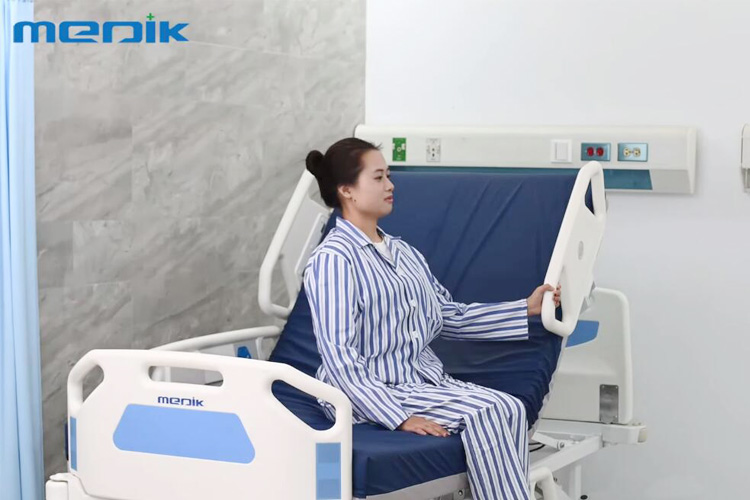 * Flexibility in bed
When the patient is sitting up or lying down, it's beneficial to move the body and adjust the position after a while. If the patients stay in the same place for a prolonged period of time, this can cause aches and pains, and it could even contribute to pressure sores. Adjustable beds allow them to change position with minimal stress and effort. Many people like to be sat up in the morning to talk to visitors, enjoy a cup of tea and watch TV before adjusting the bed to nap in the afternoon and then rest in the evenings.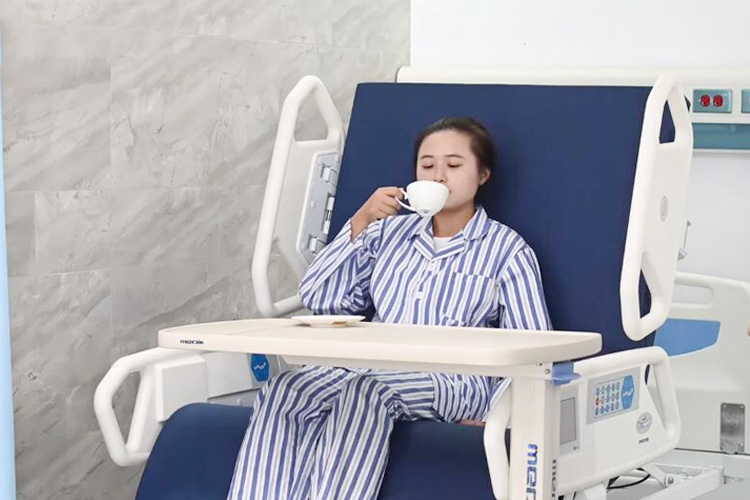 * Benefits for Caregivers
Adjustable medical beds offer comfort and independence for patients, and they also make life easier for caregivers. With electric controls (or manual cranks), The caregivers can adjust the bed without expounding energy, and tasks like helping patients get out of bed become much less physically demanding.
Conclusion
Adjustable hospital beds are the ideal choice for many people, thanks to their adjustability and other features. The right hospital bed can improve safety, mobility, comfort, independence, and more for its users. Whether you are shopping for a hospital bed for your home or a care facility, we highly recommend that you choose an adjustable hospital bed.